We put the Samsung Galaxy Z Flip4 through our rigorous DXOMARK Display test suite to measure its performance across six criteria. In this test summary, we will break down how it fared in a variety of tests and several common use cases.
Overview
Key display specifications:
6.7 inches AMOLED Dynamic 2X, (~86.9% screen-to-body ratio)
Dimensions: 84.9 x 71.9 x 15.9 mm (3.34 x 2.83 x 0.63 inches)
Resolution: 1080 x 2640 pixels, (~426 ppi density)
Aspect ratio: 22:9
Refresh rate: 120 Hz
Scoring
Sub-scores and attributes included in the calculations of the global score.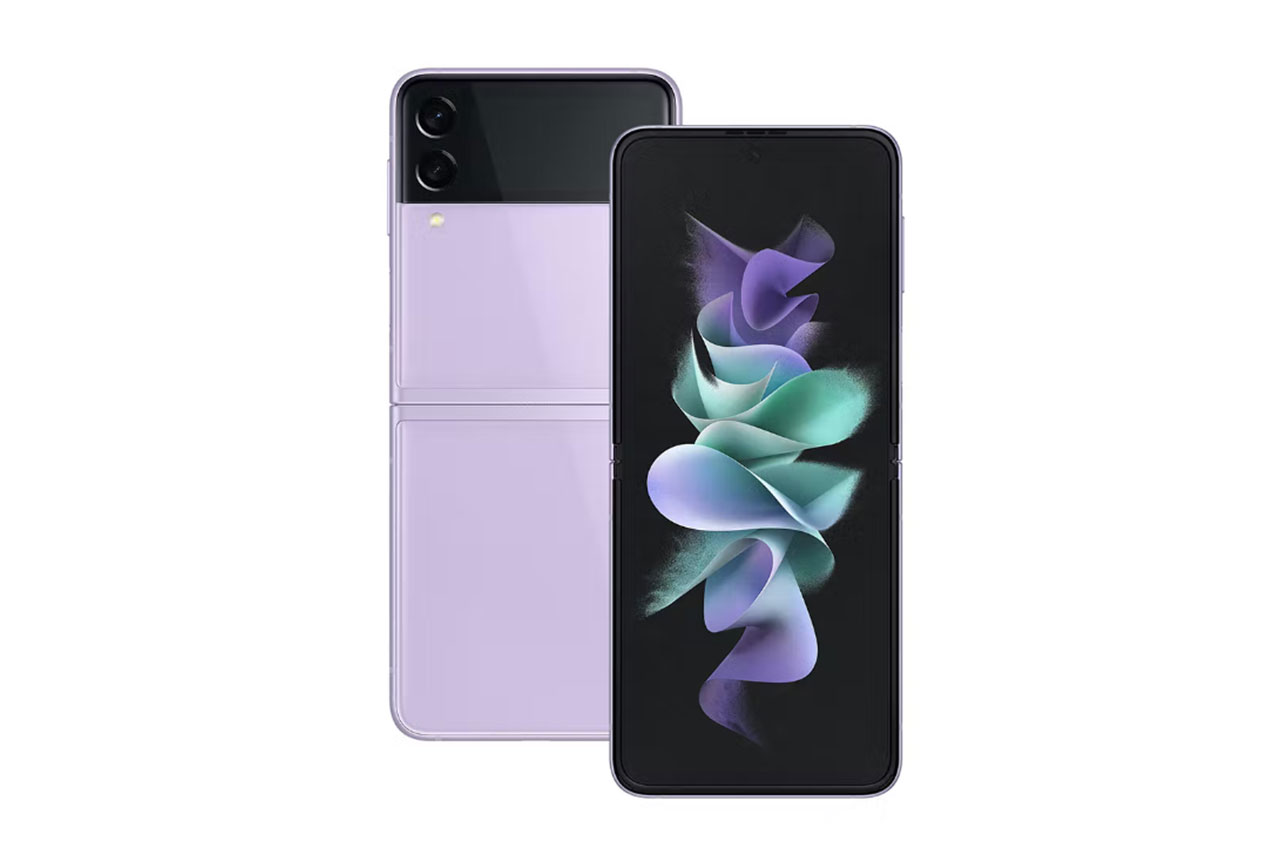 Samsung Galaxy Z Flip4
134
display
139
Apple iPhone 14 Pro Max
Best: Apple iPhone 14 Pro Max (160)
155
Realme GT 2 Pro
Best: Realme GT 2 Pro (159)
158
Samsung Galaxy S22 Ultra (Snapdragon)
Best: Samsung Galaxy S22 Ultra (Snapdragon) (162)
152
Huawei P40 Pro
Best: Huawei P40 Pro (155)
128
OnePlus 9
Best: OnePlus 9 (165)
66
LG Wing
Best: LG Wing (149)
Pros
A good performance for HDR10 video content, thanks to suitable brightness and good color fidelity
Good smoothness in every use case
Overall color performance is good.
Cons
Under sunlight the high brightness mode gives an unnatural aspect to colorful content
Brightness is too high for comfortable reading at night when the blue light filter is off.
Picture details are hard to read when viewed in indoor conditions.
Like the Z Flip3 5G, the Z Flip4's crease is visible. And as with Samsung Galaxy S22-series phones, the Z Flip4 boosts its colors under sunlight, with the result that color content appears flat and unnatural. Apart from sunlight, the Z Flip4 puts in a good color performance in all other tested ambient lighting. The Z Flip4 has a very stable angular performance in color, meaning that the color differences of both sides of the screen are minimized; you will see a difference only at important angles.
While readability is generally quite good, darker details in pictures are hard to see when viewed in indoor conditions, and the screen can be uncomfortably bright when reading at night without using the blue light filter.
Test summary
About DXOMARK Display tests: For scoring and analysis in our smartphone and other display reviews, DXOMARK engineers perform a variety of objective and perceptual tests under controlled lab and real-life conditions. Note that we evaluate display attributes using only the device's built-in display hardware and its still image (gallery) and video apps at their default settings. (For in-depth information about how we evaluate smartphone and other displays, check out our articles, "How DXOMARK tests display quality" and "A closer look at DXOMARK Display testing."
The following section gathers key elements of our exhaustive tests and analyses performed in DXOMARK laboratories. Detailed performance evaluations under the form of reports are available upon request. Do not hesitate to contact us.
Readability
139
Apple iPhone 14 Pro Max
Apple iPhone 14 Pro Max
How Display Readability score is composed
Readability evaluates how easily and comfortably users can read still content (photos & web) on the display under different real-life conditions. DXOMARK uses its Display Bench to recreate ambient light conditions ranging from total darkness to bright sunlight. In addition to laboratory tests, perceptual analysis is also made in real-life environments.
Brightness under various lighting conditions
Contrast under various lighting conditions

Readability in an indoor (1000 lux) environment

From left: Samsung Galaxy Z Flip4, Samsung Galaxy Z Flip 3, OnePlus 10 Pro, Apple iPhone 13 Pro Max
(Photos for illustration only)

Readability in a sunlight (>90 0000 lux) environment

From left: Samsung Galaxy Z Flip4, Samsung Galaxy Z Flip 3, OnePlus 10 Pro, Apple iPhone 13 Pro Max
(Photos for illustration only)

Luminance uniformity measurement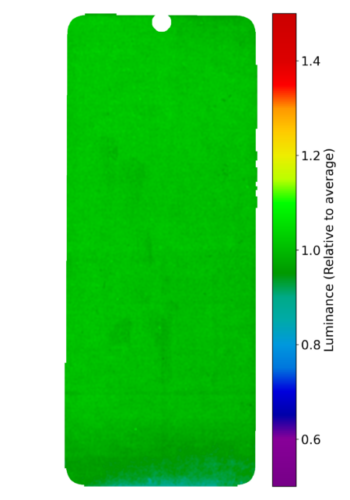 This graph shows the uniformity of the display with a 20% gray pattern. The more visible the green color, the more uniform the display.
Color
155
Realme GT 2 Pro
Realme GT 2 Pro
How Display Color score is composed
The color attribute evaluates the capacity of the device to accurately reproduce colors. The measurements taken are for fidelity, white point color, and gamut coverage. We perform color evaluations for different lighting conditions to see how well the device can manage color in the surrounding environment. Colors are measured using a spectrophotometer in a controlled lighting environment. Perceptual analysis of color rendering is against the reference pattern displayed on a calibrated professional monitor.

White point under D65 illuminant at 1000 lux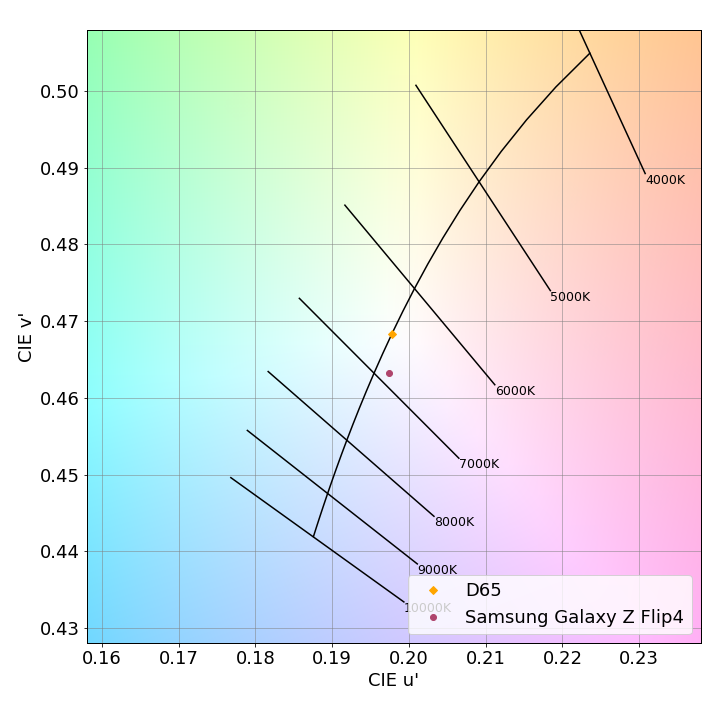 Color fidelity measurements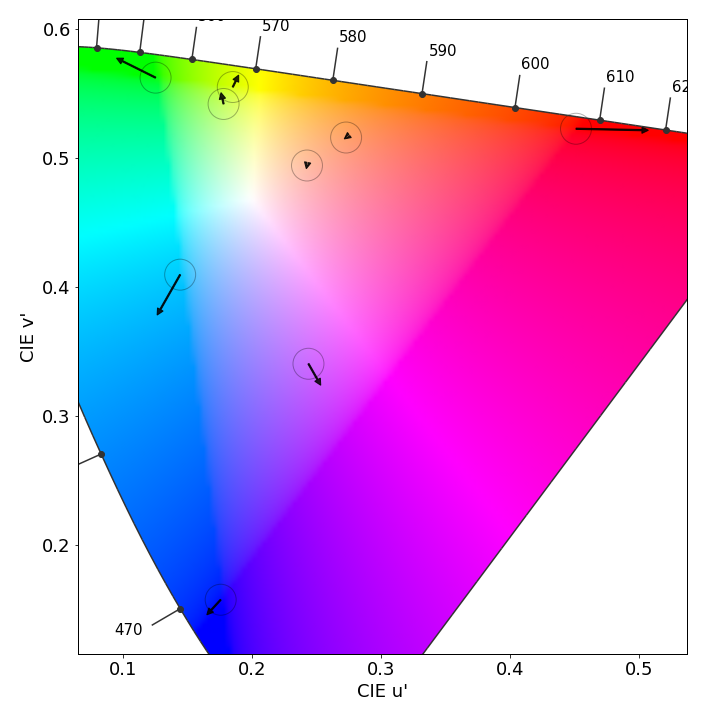 Samsung Galaxy Z Flip4, color fidelity at 1000 lux in the sRGB color space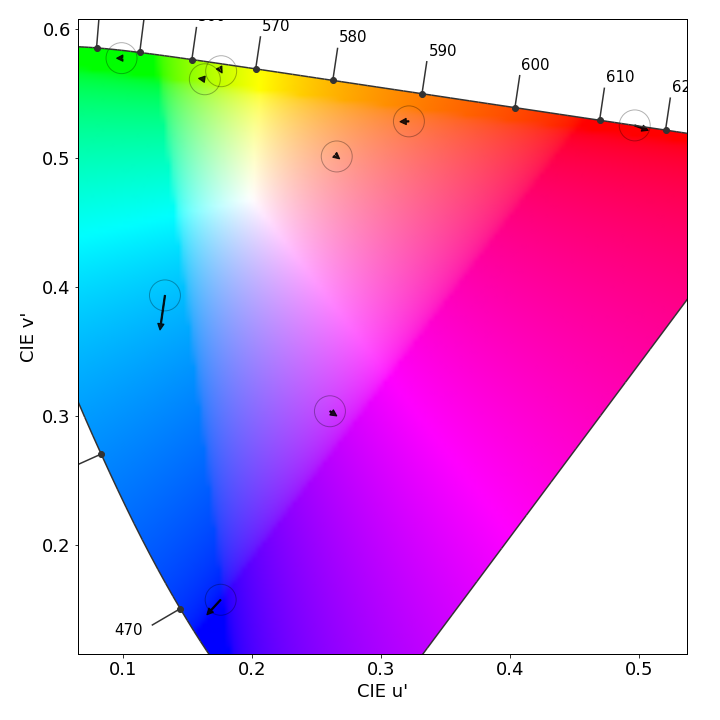 Samsung Galaxy Z Flip4, color fidelity at 1000 lux in the DCI-P3 color space

Each arrow represents the color difference between a target color pattern (base of the arrow) and its actual measurement (tip of the arrow). The longer the arrow, the more visible the color difference is. If the arrow stays within the circle, the color difference will be visible only to trained eyes.

Color behavior on angle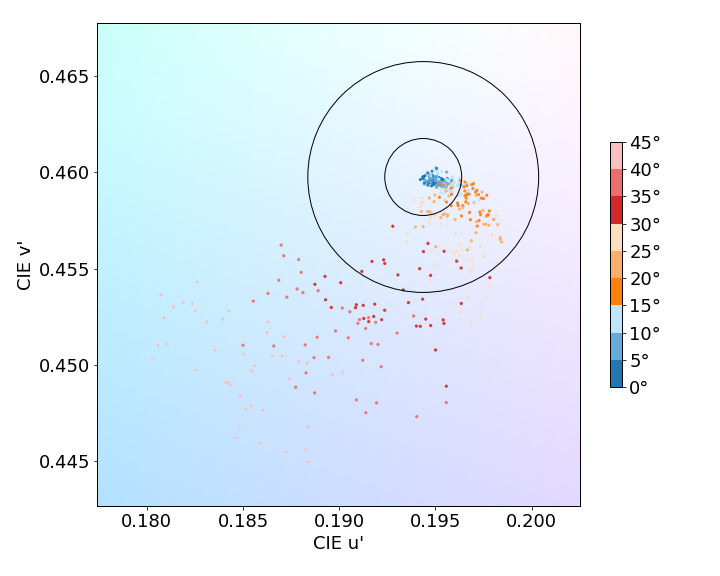 This graph shows the color shift when the screen is at an angle. Each dot represents a measurement at a particular angle. Dots inside the inner circle exhibit no color shift in angle; those between the inner and outer circle have shifts that only trained experts will see; but those falling outside the outer circle are noticeable.
Video
158
Samsung Galaxy S22 Ultra (Snapdragon)
Samsung Galaxy S22 Ultra (Snapdragon)
How Display Video score is composed
Our video attribute evaluates the Standard Dynamic Range (SDR) and High Dynamic Range (HDR10) video handling of each device in indoor and low-light conditions. We measure tone mapping, color gamut, brightness and contrast of the display. We perform perceptual analysis against our professional reference monitor (Sony BVM-HX310) to ensure that the rendering respects the artistic intent.
Video brightness at 10% APL in the dark (

Video rendering in a low-light (0 lux) environment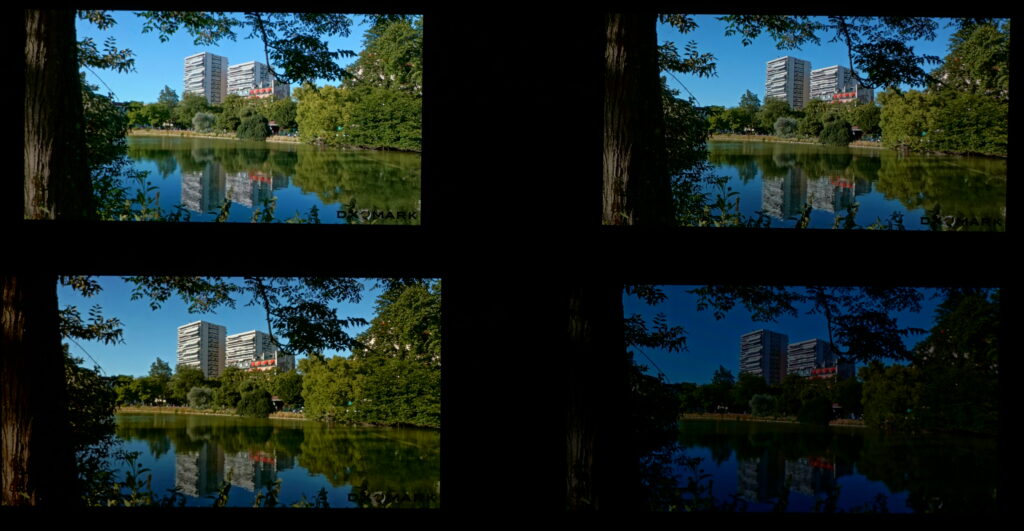 Clockwise from top left: Samsung Galaxy Z Flip4, Samsung Galaxy Z Flip 3, OnePlus 10 Pro, Apple iPhone 13 Pro Max
(Photos for illustration only)

Gamut coverage for video content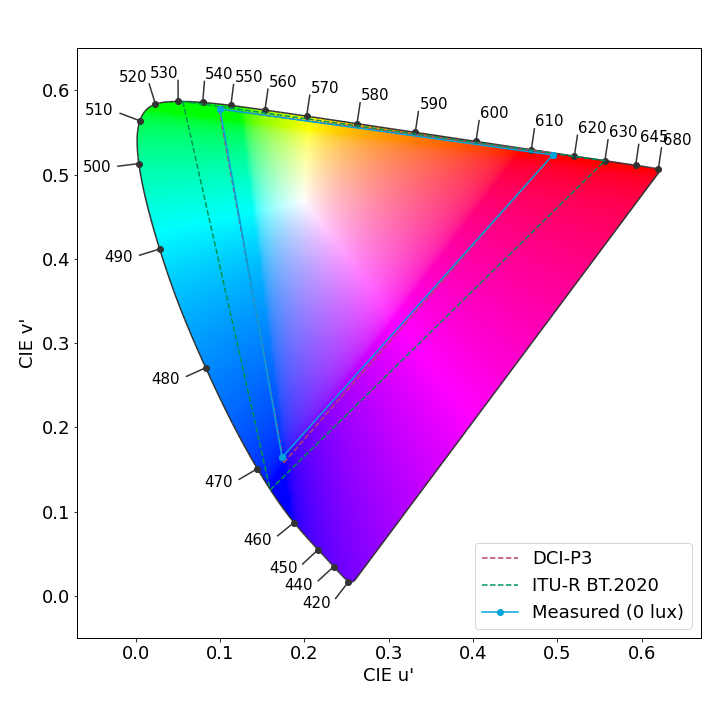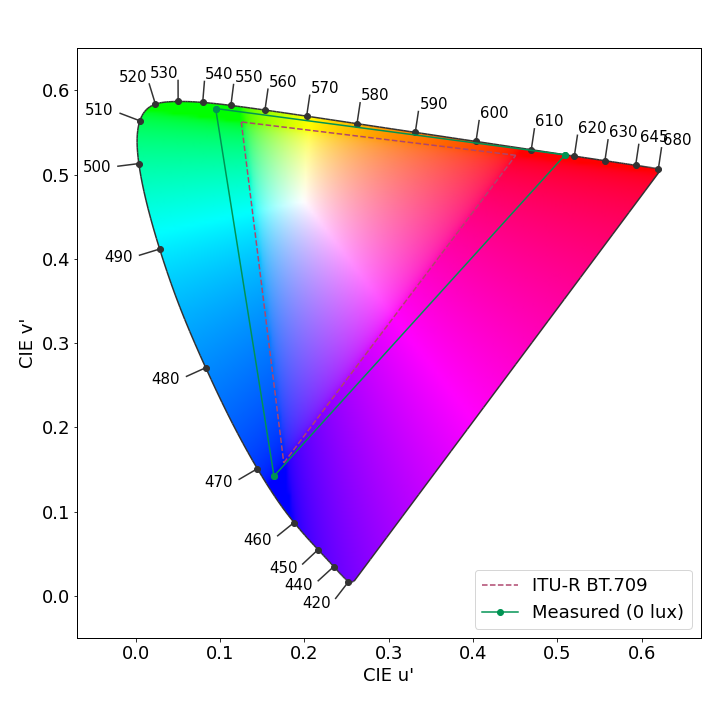 The primary colors are measured both in HDR10 and SDR. The extracted color gamut shows the extent of the color area that the device can render. To respect the artistic intent, the measured gamut should match the master color space of each video.
Motion
152
Huawei P40 Pro
Huawei P40 Pro
How Display Motion score is composed
The motion attribute evaluates the handling of dynamic contents. Frame drops, motion blur, and playback artifacts are scrutinized using games and videos.

Video frame drops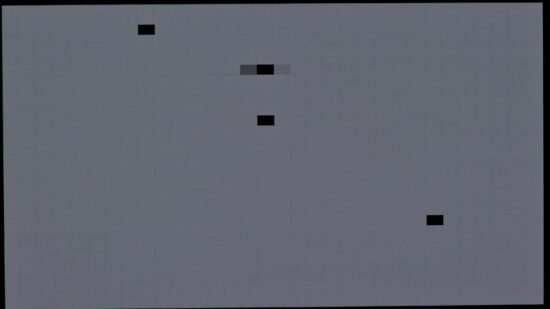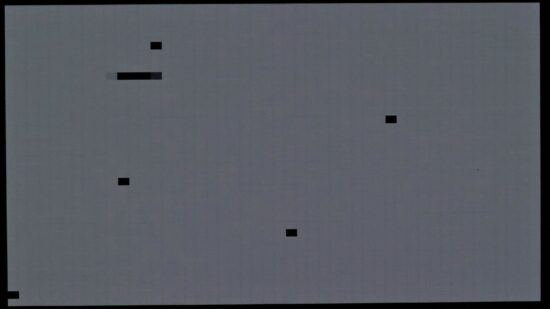 These long exposure photos present the number of frame irregularities in a 30-second video. A good performance shows a regular pattern (either a flat gray image or a pull-down pattern).
How Display Touch score is composed
To evaluate touch, DXOMARK uses a touch robot and a high-speed camera to play and record a set of scenarios for smoothness, accuracy and response-time evaluation.

Average Touch Response Time Samsung Galaxy Z Flip4

This response time test evaluates precisely the time elapsed between a single touch of the robot on the screen and the displayed action. This test is applied to activities that require a high reactivity, such as gaming.
How Display Artifacts score is composed
Evaluating artifacts means checking for the performance, image rendering and motion flaws that can affect the end-user experience. DXOMARK measures precisely the device's reflectance and the presence of flicker, and assesses the impact of residual aliasing when playing video games, among other characteristics.

Average Reflectance (SCI) Samsung Galaxy Z Flip4
Reflectance measurement (SCI)

Measurements above show the reflection of the device within the visible spectrum range (400 nm to 700 nm). It includes both diffuse and specular reflection.

Flicker Frequency Samsung Galaxy Z Flip4
240 Hz
Bad
Good
Bad
Great
Flicker comparison

This graph represents the frequencies of lighting variation; the highest peak gives the main flicker frequency.
The Z Flip4's low artifacts score is not only due to its flicker and visible crease, but because of its behavior when viewed through polarized sunglasses, as shown below.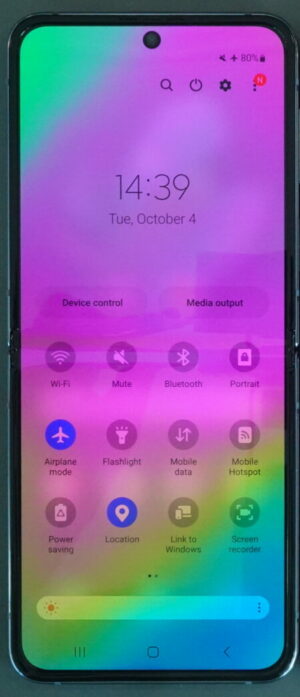 Aliasing (closeup)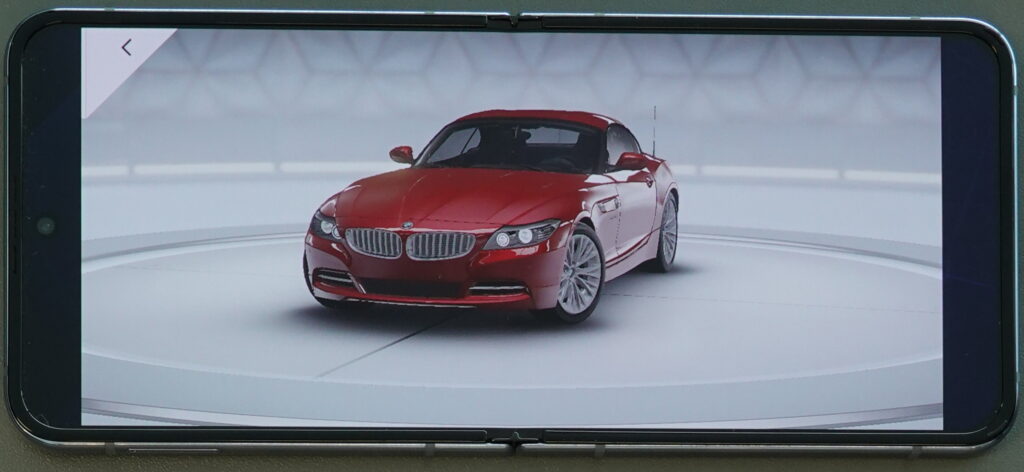 Samsung Galaxy Z Flip4
(Photos for illustration only)