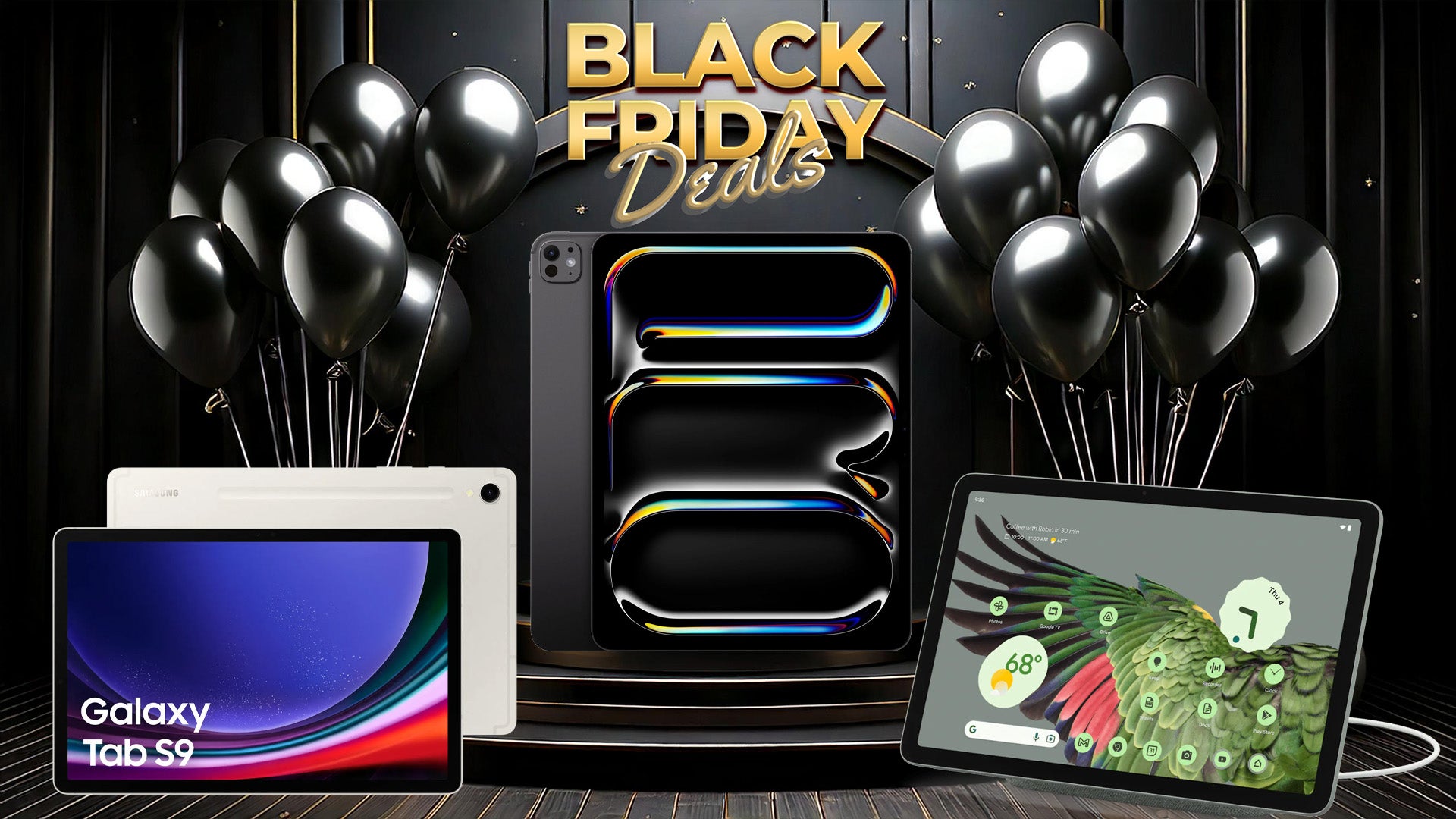 Believe it or not, we are now officially in the month of Black Friday and the big shopping event is fast approaching us. We expect to see many good deals on tablets during Black Friday 2022, but it seems there is no need to wait until then as there are already plenty of great early offers on tablets from
Samsung
,
Apple
, Lenovo, Microsoft, and more at BestBuy and Amazon right now.
We will keep updating with the best and latest Black Friday offers as they pup up until and during the event, so make sure to come back here and check if there is any deal that catches your eye.
Black Friday early tablet deals:
Early Black Friday iPad Pro deals
The newest
iPad Pro 12.9 (2021)
and
iPad Pro 11 (2021)
are absolutely the most powerful tablets out there right now. Apple's M1 chip — which actually powers the desktop iMac, the Mac mini, and the MacBook Pro and Air — has been fitted into these slates, giving them enormous productivity and great battery life. To top it off, the 12.9-inch model has the new XDR display, which offers superb picture quality when watching HDR content.
Last year the latest iPad Pro models from Apple saw not so impressive discounts of $100 to $200. That being said, any type of price cut on these super expensive slabs is very welcome. We expect the same for Black Friday 2022, dare we say even some $300 discounts too for the more higher-specced versions.
Early Black Friday iPad Air and iPad mini deals
The
iPad Air
from 2020 is the perfect pick if you are looking for something with the same design language as the Pro models, but for a much more affordable price tag. Of course, being cheaper and all, it comes with a not-so-powerful processor and less of a smooth display, but it offers more than enough for most regular (non-heavy) users. Not to mention how much more compact and travel-friendly it is.
The
iPad mini 6
was recently released in 2021 and is pretty much a smaller iPad Air. Be warned, its tiny display kind of makes it hard to make use of multitasking features like Slide Over and Split View. It's better-suited for people that want to have an even tinier tablet to sketch with the Apple Pencil 2 on. If you are looking for an actually affordable iPad, look at the base model below.
Unfortunately, we didn't see any noteworthy deals on either the iPad Air or the iPad mini last year, but we expect to see some for this Black Friday once it arrives.
Early Black Friday iPad 10.2 deals
Just like the iPad mini, the basic model—
iPad 10.2
—got refreshed in 2021. This time around it came with a base storage of 64GB, which is admittedly a bit weird in this day and age, even if it is the cheapest tier. That being said, it is a dependable tablet for media usage and some mobile gaming.
We rated the iPad 10.2 (2021) high in our review, because it runs great, looks great, and is an absolutely solid deal for its MSRP of $329.
Early Black Friday Samsung Galaxy Tab deals
Of course, there's also the rest of the Tab S8 lineup that made less of a splash online. That said, the Tab S8 and S8+ are still amazing tablets, arguably the best Android ones out there, for that price range.
If you don't mind the somewhat outdated specs, then the Tab S7 series is still a great option if you are looking to save money, or you can go for the Tab A8 instead, which comes as the stripped down version of the latest generation, but still covers all the basic needs you might have from a tablet.
Last year we saw discounts from $50 all the way to $250, and we might get even better ones during Black Friday 2022.
Currently, the best way to get a really good deal on one of Samsung's Galaxy Tabs is to trade in an older device like a phone or another tablet that you have laying around and not in use.Also, see our
Galaxy Tab Black Friday deals
selections.
Early Black Friday Lenovo tablet deals
Lenovo tablets are already on the cheap side but even now there are some good discounts ranging from 17% to 37%.
Lenovo is the third biggest tablet manufacturer in the world, offering an extremely versatile range of tablets for a long time. Although most of its tablets run Android, some, like the Chromebook Duet, use ChromeOS and offer both tablet and laptop functionality.
If you're looking for a Lenovo tablet, Black Friday 2022 is definitely the time to buy one. Now, Lenovo tablets are already quite affordable, so don't expect any mind-blowing price cuts. Mostly what we expect to see is $50-$60 discounts with a $100-$150 sprinkled here and there.
Early Black Friday Microsoft Surface Pro deals
Microsoft's Surface tablet have an interesting standing — they are slates, but they run the full Windows, as if they are laptops. Though, the tech required to accomplish this is pricey. So, finding Surface deals for Black Friday 2022 will be a tricky task, but that's exactly why we are here to help with.
Last year, there were some good discounts somewhere in the neighborhood of $250. We expect the same for this year too.
Early Black Friday Amazon Fire tablet deals
Amazon is currently prepping for the big Amazon Prime Day shopping event that is said to arrive sometime in July, meaning there are currently some great offers on Fire tablets. Some of these discounts even go as high as 50%!
Should I wait until Black Friday to buy a tablet?
Given that we are so close to the big shopping event it is probably a good idea to wait for the big tablet discounts we expect to see during Black Friday 2022. Whichever one you've got your eyes on is very likely to get at least some kind of deal that would make it a more reasonable purchase.
That being said, if you find yourself in a emergency need for a new tablet, make sure you check the offers we saw for it last year (if there were any). If they are not substantial then it shouldn't be too much of a miss to buy it before Black Friday.
Where to find the best Black Friday tablet deals in 2022?
Usually, the best tablet deals on Black Friday pop up at retailers like
Best Buy
and
Amazon
, but manufacturers such as Samsung and Lenovo are also really good when it comes to holiday season discounts. It is also a good idea to look at some other retailers like
Walmart
and
Target
.
Your best bet to get a real bargain when Black Friday 2022 comes around is to hunt for a flagship tablet that would already be slightly older by then—especially if it has had a successor released recently. Stocks need to be cleared, so Black Friday's best tablet deals usually hit the models that need to go quicker. Conversely, you may want to look for discounts on specific accessories for your tablet — Apple Magic Keyboard and Pencil, or a Samsung Keyboard Folio.